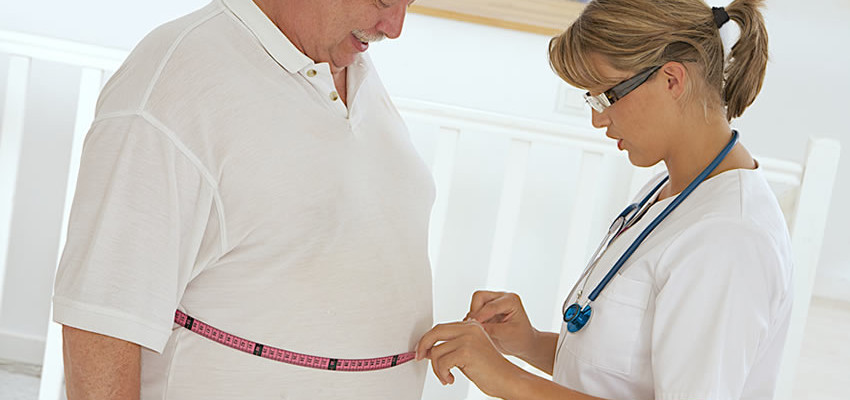 Obesity and Back Pain
Can reducing weight help in back pain?
Most people know that Obesity contributes to the development of heart diseases, diabetes, high blood pressure and colon cancer. However, did you know that obesity is a contributing factor to back pain? It's true!
People who are overweight/obese and suffer from back pain may not be aware that their excess weight is actually contributing to their back pain. The spine is designed to carry the body's weight and distribute the loads encountered during rest and activity. In order to compensate for extra weight, the spine can become tilted and stressed unevenly. As a result, overtime, the back may lose its proper support and an unnatural curvature of the spine may develop. One region of the spine that is most vulnerable to the effects of obesity is the low back- the lumbar spine.
Is back pain only Age-related? It is true that with age, body tissues can cause changes to spinal anatomy. However, if you are overweight/ obese, chances are you have or will have back pain. You may have/develop one of the following conditions that can cause back pain.
Unhealthy posture: because of uneven load on the spine due to obesity, its curvature alters resulting in Scoliosis, kyphosis and lateral pelvic shifts and causes changes in our posture in order to cope up with our daily activities. Thus, an unhealthy posture can contribute to low back pain or sciatica( low back pain radiating down the leg). Physiotherapists at ReLiva are expert in assessing your posture and advising on the changes you may need.
Osteoporosis: A sedentary lifestyle coupled with unbalanced diet can affect the density or strength of the bones and an extra load is taken up by the weak back and core muscles leading to back pain.
Low muscular endurance and weakness: ReLiva Physiotherapy could plan an appropriate exercise plan for you to address specific muscular weakness which would help with your chronic back pain.
Poor flexibility of the muscles: an extra load on the muscles makes it weak overtime and in order to compensate the muscles become tight and can result in back pain. Tight muscles may even form fibre nodes within/ taut band which is called as trigger points which can also cause back pain or refer pain to different site as well mimicking a nerve pain.
Apart from back pain, obesity can also result in Low cardiac endurance: owing to the inactive lifestyle, an overweight/obese person gets easily fatigue and breathless making it a viscous cycle where the person becomes more inactive and prone to vascular diseases like varicose veins, deep vein thrombosis, heart diseases etc and metabolic diseases like diabetes.
Prevention is better than cure!
Start walking for at least 30 minutes daily from today itself. Keep checking your weight every month and indulge in healthy diet.
Consult a physiotherapist at ReLiva, to assess your muscular strength and flexibility and get started with the core exercise program to strengthen your core muscles.
For a balanced healthy diet, you can consult dietitian at ReLiva and maintain or reduce your weight.
Obesity and recovery from low back pain at ReLiva
Our Physiotherapist will assess and guide you with the treatment protocol.
You can strengthen your core muscles by joining core program at ReLiva.
You can improve your flexibility under the therapist guidance.
Pain modalities will help you to relieve back pain.
You can also consult a dietitian at ReLiva for weight reduction and obesity control.