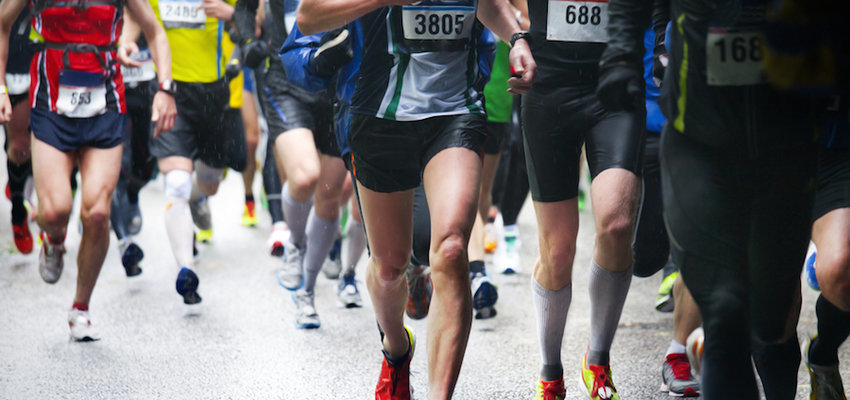 Marathon runners push the body's limit to increase their exercise capacity. But they shouldn't ignore the vital signs of injury and learn to differentiate a serious injury from a minor one.
This article is an attempt to make the runners aware of the general thumb rules about running related injuries.
Warning Signs of Injury                                                                                                                                                                 
What pain is ok?
• General muscle soreness
• Slight joint discomfort after workout or next day that is gone in 24 hours
• Slight stiffness at beginning of run or walk that goes away after first 10 minutes
What pain is not okay? (You should not train!)
• Pain that is keeping you awake at night
• Pain that is evident at beginning of run/walk then becomes worse as run/walk continues
• Pain that changes your stride/ style of run
What to do if I get reinjured / injured?
• Ice area: 15-20 minutes several times per day  (Refer to the ReLiva document on RICE protocol at the Knowledge Center)
• Elevate injured part while icing
• Rest (at least initially)
• Analyze program for possible causes
o What did I do differently in training?
o Big jump in speed of running?
o Significant pace increase?
o Shoes worn out? Or change in shoe model?
o Change from all treadmill or soft surface to road running?
• Cross-train on non-impact cardio – follow similar minutes that you were doing running/walking (elliptical or swimming or cycling)
• Determine plan to return to full program, return to running very slowly
• Physical therapist and/or orthopedic
Warning Signs of Overtraining
• Difficulty performing typical workouts for more than a week
• Excessive fatigue
• Higher resting heart rate
• Decreased appetite
• Sorer muscles
• Troubled sleep
• Irritability
• Increased perspiration
• Decreased desire to train
Whether you happened to injure yourself by accident or by overtraining, do not lose heart. If you reach out to a trained physiotherapist soon enough after the injury, the chances are that you can recover much faster  and get back to your training than if you just sit back and wait for it to heal itself.
These guidelines should not take the place of medical advice if attempting to return to sports following an injury. If an athlete requires assistance during or in the progression of a return to sport program they should consult with their medical expert, or physiotherapist