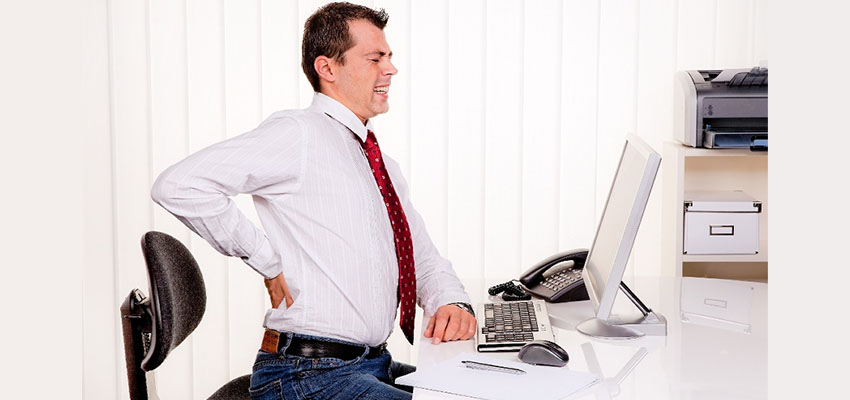 Physiotherapy provides a successful treatment for spinal disc prolapse rehabilitation. Typically the treatment includes back pain relief and protection, exercise program for lower abdomen and core stability, restoration of function and preventing a recurrence.
ReLiva Physiotherapy provides Disc prolapse rehabilitation for managing such symptoms at its clinics in Navi Mumbai and Thane. The treatment phases are described hereunder:
1. Back Pain Relief & Protection:
Our physiotherapists will use an array of treatment tools to reduce your back pain and inflammation. These include: ice, electrotherapy, and unloading taping techniques. Apart from these certain techniques or exercises that unload the inflamed structures are also utilized to provide pain relief and reduce inflammation.
2. Prolapsed Disc Exercises:
As your pain and inflammation settles, our physiotherapist will turn their attention to restoring your normal joint alignment and range of motion, muscle length and resting tension, muscle strength and endurance.
Our physiotherapist will commence you on a lower abdominal and core stability program to facilitate your important muscles that dynamically control and stabilize your spine.
Our physiotherapist may recommend a stretching program to address your tight or shortened muscles.
3. Restoring Full Function:
Depending on your chosen work, sport or activities of daily living, our physiotherapist will aim to restore your function to safely allow you to return to your desired activities. Everyone has different demands for their body that will determine what specific treatment goals you need to achieve. For some it is simply to walk around the block. Others may wish to run a marathon.
Your physiotherapist will tailor your back rehabilitation to help you achieve your own functional goals.
4. Preventing a Recurrence:
Back pain does have a tendency to return. The main reason it is thought to recur is due to insufficient rehabilitation. In particular, poor compliance with deep abdominal and core muscle exercises. You should continue a version of these exercises routinely a few times per week.
What is PIVD or Disc Prolapse?
The term PIVD /prolapsed intervertebral disc means the protrusion or extrusion of the nucleus pulposus through a rent in the annulus fibrosus
Between the bones (vertebrae) of your spinal column are discs that contain a gel-like substance.
These discs allow the back to flex and bend, and act as shock absorbers between the vertebrae.
When one of these discs ruptures, the gel-like substance can bulge out putting pressure on nearby nerves. This condition is referred to as a herniated disc, prolapsed disc, or slipped disc and can cause severe back pain and other symptoms.
The most common age to develop a herniated disc is between 30 and 50 years. Men are affected nearly twice as often as women are.
The discs between the spinal vertebrae are composed of a tough outer casing (the annulus) with a gel-like centre (the nucleus).
A herniated disc occurs when the annulus of the disc tears and the contents of the disc are pushed out through this tear. The bulging disc material may press on nearby nerves causing pain and affecting function.
As we age the discs become less flexible and begin to harden, making them more prone to tears. A herniated disc can be caused by a single excessive strain or injury. However, as degeneration of the discs progresses with age, some people may suffer herniated discs from more minor exertions or twists.
CAUSES OF DISC PROLAPSE:
Ageing
Being overweight (creating more pressure on the spinal column)
Smoking (which can contribute to the degeneration of discs)
Incorrect lifting of heavy weights.
Repetitive strenuous activity.
Signs and symptoms:
The most common symptom of a herniated disc is sciatica:
This is characterized by a sharp, often shooting pain that extends from the buttocks down the back of one leg, and is caused by pressure on the sciatic nerve. Other symptoms that may be experienced as the result of a herniated disc include:
Lower back pain
Leg or arm pain
Abnormal sensations such as tingling, numbness or pins and needles in one arm, one leg or buttock
Burning pain in the shoulders, neck, arm or central back
Muscle weakness.
If problems with bowel or bladder function are experienced this may be a sign of cauda equine syndrome - a rare but serious complication of a herniated disc. Immediate medical attention should be sought if this is suspected.
BENEFITS OF PHYSIOTHERAPY:
1. Physiotherapy helps reduce pain.
3. Increases core strength making your spine more stable to prevent further injuries.
4. Physiotherapy helps achieve your functional goals.
INTERESTING FACTS:
A bulging disc may be as painful as an herniated disc
Prolapsed discs cannot be diagnosed with an x-ray. You need an MRI
Many disc pain conditions are misdiagnosed
If I were to gather a group of middle age folks (45 average age) who have NEVER had back pain before and shoot MRIs on them all, here's what we would find:38% would have disc bulges,
37% disc protrusions (aka: contained herniations),
11% disc extrusions (aka: non-contained herniations),
0% disc sequestrations (aka: free fragments) and
4% nerve root compression by the disc herniation.
A more shocking statistic is that 60% of asymptomatic middle aged people would have findings of disc bulge or worse (protrusion, extrusion) on MRI!